19 Sep

Cyber Essentials Certified
Cyber Essentials Certified
We are proud to announce that we are now Cyber Essentials Certified. Cyber Essentials is a UK Government-backed, industry-supported certification scheme introduced in the UK to help organizations demonstrate operational security against common cyber-attacks.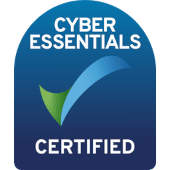 Why is this important?
The Cyber Essentials certification is a globally recognized standard that demonstrates our robust approach to data protection and security. It signifies that our systems and processes are assessed and deemed to be protected against common cyber threats.
🌐 For our clients, this means:
Enhanced trust in our services.
Assurance that we're taking proactive measures to safeguard our data.
Peace of mind knowing that we prioritize security at every level.
We're proud of this achievement, and it underscores our dedication to serving our clients with excellence and integrity.