24 Oct

Port and Interface Numbering – Netgate 7100 with Intel NIC
Port and Interface Numbering – Netgate 7100 with Intel NIC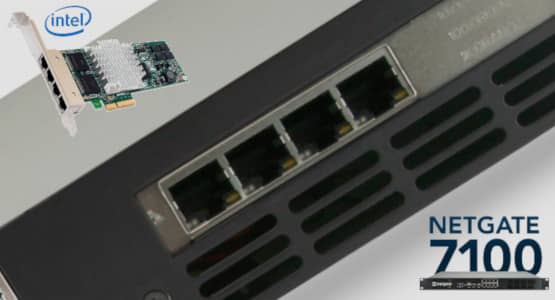 | Port | Interface Name | Port Name | Port Type | Port Speed |
| --- | --- | --- | --- | --- |
| 1 | WAN | ETH1 | RJ-45 | 1 Gbps |
| 2-8 | LAN | ETH2-8 | RJ-45 | 1 Gbps |
| 9 | OPT1 | ix0 | SFP+ | 10 Gbps |
| 10 | OPT2 | ix1 | SFP+ | 10 Gbps |
| 11 | Unassigned | em0 | RJ-45 | 1 Gbps |
| 12 | Unassigned | em1 | RJ-45 | 1 Gbps |
| 13 | Unassigned | em2 | RJ-45 | 1 Gbps |
| 14 | Unassigned | em3 | RJ-45 | 1 Gbps |
The above picture show the port and interface numbering of a Netgate 7100 1U with a Quad Port Ethernet Gigabit adapter HP CPU-D61407(B). This network card is based on the Intel chipset 82571. When this network card is installed on a Netgate 7100, the four interfaces will be listed on pfSense with name em(n) from the name of the em FreeBSD driver that controls this card as well as other Intel based cards with chipset 82540, 82541ER, 82541PI, 82542, 82543, 82544, 82545, 82546, 82546EB, 82546GB, 82547, 82572, 82573, 82574, 82575, 82576, and 82580.
A wide variety of wired Ethernet Network Interface Cards (NICs) are supported by FreeBSD, and are thus compatible with pfSense software. However, not all NICs are created equal. The hardware can vary greatly in quality from one manufacturer to another.
The best way to ensure that hardware is compatible with pfSense software is to buy the official Netgate hardware that has been tested and known to work well with pfSense software.