24 Jun

Transitioning to a Cost-Effective Firewall Solution
Transitioning to a Cost-Effective Firewall Solution
A Success Story from our Education Sector Client, AIM Academies Trust
Requirements:
Protect the school network
Effective, and affordable solution
Easy implementation and maintenance
Challenges:
Limited firewall capabilities in current system
High cost of market alternatives
Solution:
Selected Netgate/pfSense for its simplicity and affordability
Supported by IT and General during transition and implementation
Ongoing support ensures peace of mind
Getting the equipment ready

Lewis Richardson, ICT Director at AIM ACADEMIES TRUST says:
The support and guidance from IT and General has been great, Mario guided us through the different firewalls that were available, and we chose one that was suited to our needs. He then planned out the installation, with detailed diagrams and on the day of changeover assisted with the installation. Then ongoing support gives us peace of mind that we if anything does go wrong, we have someone to call.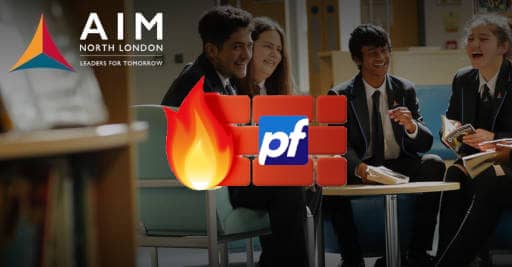 The Requirements
Our client, AIM Academies Trust, was approaching the end of their current contract with Smoothwall. Though they found the filtering service satisfactory, the firewall element was somewhat lacking, driving them to seek a separate firewall and filtering solution. They were in need of a more comprehensive, cost-effective, and straightforward solution that would serve their needs better.
Challenge
Finding a simple, budget-friendly solution that didn't compromise on functionality was a priority. They compared proposals from five different firewall providers but were disheartened by the high quotes they received which required renewals every three years. The challenge was to identify a solution that would not only meet their requirements but would also fit within their budget.
Solution
After evaluating their options, the client decided to choose the Netgate/pfSense firewall, impressed by its simplicity, cost-effectiveness, and functionality that paralleled their previously more expensive options. Now, they are in the process of implementing this firewall solution across all their three academies.
Support
Our team at IT and General, led by Mario, provided extensive support and guidance throughout this transition. We assisted the client in understanding different available firewalls, helping them choose the one that suited their needs best. Subsequently, we planned the installation in detail, including providing network topology diagrams, and offered assistance on the day of the switchover. We also provide ongoing support, ensuring that the client feels confident knowing they have someone to turn to if anything goes awry.
Result
The initial results of the implementation have been positive. The first academy has already benefited from the new firewall solution, with the remaining two scheduled for installation during the summer. The client has expressed satisfaction with the level of support and guidance received from IT and General, highlighting the peace of mind our ongoing support provides.