15 Apr

One of the best things we did for our business
One of the best things we did for our business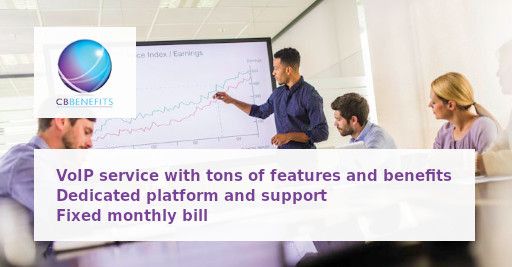 Dave at CB Benefits:  "We moved from landline over a year ago and the change was one of the best things we did for our business."
CB Benefits offer a wide range of employee benefits and engagement support. Above all they take pride in delivering the most comprehensive support to SME's and individuals.
After we met Dave Sykes, Director and Partner at CB Benefits, at a business event, he soon came to the realisation that their landline phone service was expensive, complicated to use and lacked integrated features and modern functionalities.
For example, forwarding calls was pricey and with poor voice quality. There was no integrated call recording or possibility to re-route calls based on day of the week, time of the day and so forth. Furthermore, their support experience was not satisfactory and they did not have a dedicated account manager.
When IT AND GENERAL was commissioned with the project to replace the old phone system, firstly we consulted with the staff at CB Benefits to gather the exact office requirements.  Secondly we recommanded a call flow built around the need to streamline and improve the way customers were handled.  Finally we implemented a fully managed solution on a dedicated platform in order to eliminate the time-consuming task of managing a phone system.
The new service came with unlimited and all inclusive call packages giving CB Benefits the predictability of a fixed monthly bill with no surprises. The call flow solution was able to handle several events including team meetings, recruitment hot lines and even the most complex scenarios such as office emergency, lock downs and snow closures.
The VoIP services offered by IT AND GENERAL came with benefits that the traditional landline phone services just could not match. Together with the other advantages, CB Benefits now has an account manager they can rely on to resolve any issues and to address any future scaling requirements.
After a year of service Dave commented:  "We moved from landline over a year ago and the change was one of the best things we did for our business."
Project Overview
Challenges with the existing landline:
Access to voicemail was complicated
Almost non-existent flexibility
Support was not satisfactory
Lack of functionality
Solution:
Call flow design to suit the exact requirements
Wide range of features and benefits
Dedicated platform and support
Fixed monthly bill

Dave Sykes, Director and Partner at CB Benefits commented on Google:
We use IT and General for our VOIP services and we are very happy with the result. We moved from landline over a year ago and the change was one of the best things we did for our business. IT and General did all of the set up, let us test the phones before moving forward with the order, and once we moved forward, they came to our offices and provided comprehensive training. Lastly, and most importantly, the systems work great and IT and General are always on hand and responsive should we have any questions. We'd reccomend their services whole heartedly.